If you've been in outer space for the last few days (though I'm astronauts even know. Howard Wolowitz had a phone), a rather important baby was born on Monday. And
Charlotte of Charlotte's Web
asked me where I was, and what I was doing when this person had this baby.
Being a little more specific, Catherine, Duchess of Cambridge gave birth to Prince Cambridge at 4:24pm on Monday 22nd July, weighing 8lb 6oz (which seems a lot). Enormous congratulations to her, William, and the entire Royal Family.
I'm an enormous Royal Family fan. I appreciate that not everyone is (and if you aren't, you probably aren't even reading this- why have you got this far?), but personally I absolutely love them- I think they're one of the best things about Great Britain, and I love their quirky Britishness. Including Prince Philip's hilarious lack of political correctness- apparently, he once said to a woman in a wheelchair at a garden party at the Palace "Well, at least you get to sit down through all of this!". No jokes.
So oddly enough, since the announcement of the pregnancy in December I have been pretty excited. Mama CupAndSaucer started guessing baby names at the Royal Wedding, and this only stepped up after the official announcement. I've read everything on the BBC about the pregnancy, cooed over her beautiful pregnancy clothes and marveled how she still managed to look perfect, and as July drew closer, my blood pressure rose to a point where I'm sure my doctor actually thought there was a problem when she measured it on Saturday.
By this week, every time someone tweeted the word "Baby" my heart jumped and I was sure it was about to be announced. So when Chris Evans announced that Catherine was in labour at 7:45 on Monday morning, I screamed in my car for a good ten minues and banged the steering wheel so much it's felt a bit loose since. I was actually pretty amazed that they actually announced the labour- I thought the first we'd hear would be when she'd actually popped, but it seems the Royal Family like increasing the traffic to the BBC News site, and giving everyone an excuse to be on Twitter all day. Which is exactly what I did.
At 4:24pm on Monday, I was getting ready to leave work. I tend to work 8:15am- 4:30pm because I'm a morning person, and I'm allowed to do this. So at 4:24pm, I was wearing a pencil skirt and sleeveless floral blouse, retying my hair into a tighter bun for the drive home, and probably trying to make myself look busy for another five minutes without actually starting anything new. In fact, I think I was adding dates for 2014 into the work calendar- which seems a long way off, given that I don't know what I'll be doing next Tuesday.
After my usual hour-and-a-quarter commute, including a stop for petrol, I grabbed a mug of tea and parked myself on the sofa until 6:55pm when Mama CupAndSaucer text to let me know she was on her way and I prepped a supper of fajitas. After eating we settled back on the sofa, changed channels momentarily at 8:15pm, and switched back at 8:28pm- literally moments before they announced the birth. We both shrieked in shock that it was a boy- I was certain it was a girl and was holding out for a new Princess Alice- and launched straight back into name discussions. I think we need a new hobby.
And last night, when they emerged from St Mary's, I was in the same place on the sofa, clutching another mug of tea and squealing with glee at how perfect and happy they looked. I was particularly delighted by William's choice of words- rather than "We're getting to know him", Wills went with "We're having a chance to catch up". I like to picture William, Kate, and the Prince with mugs of tea and chocolate digestives discussing the differences between the womb and the Real World.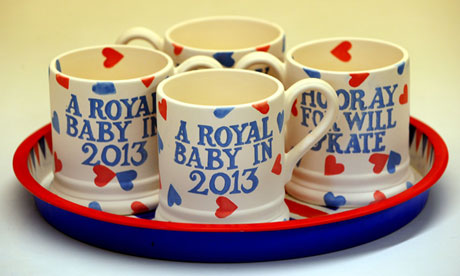 From here. I'm sure if I can find them on the website, I'll have one of these by next week.
Since, I've rewritten the words to "Oh, What A Circus" from Evita so it's about the birth of the baby, not the death of Eva Peron. (If you want, I'll sing it for you. Or write the words down). And now I'm just excited about the inevitable commemorative Emma Bridgewater mug, and Marks & Spencer's biscuit tin.
What were you doing when the baby was born?